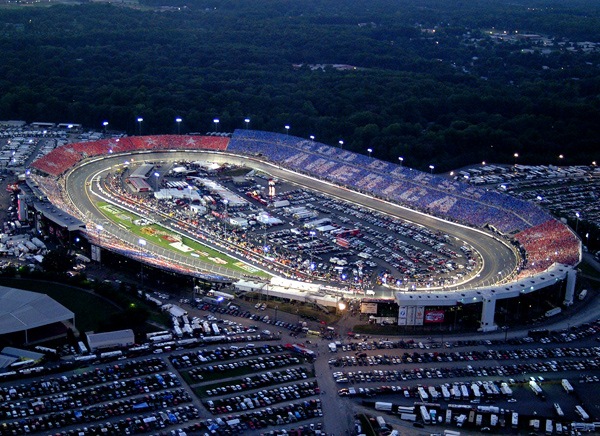 Richmond International Raceway Data
Race #: 9 of 36 (04-28-12)
Track Size: .75 miles
Race Length: 300 miles
· Banking/corners: 14 degrees
· Banking/straights: 8 degrees
· Frontstretch: 1,290 feet
· Backstretch: 860 feet
Qualifying/Race Data
2011 pole winner: Juan Pablo Montoya
(128.639 mph, 20.989 seconds)
2011 race winner: Kyle Busch
(95.280 mph, 04-30-11)
Track qualifying record: Brian Vickers
(129.983, 20.772 seconds, 5-14-04)
Track race record: Dale Jarrett
(109.047 mph, 9-6-97)

Friday, April 27
5:30 am NSCS Haulers Enter
7:00 am Garage Opens
11:00 am NSCS Rookie & Spotter Meeting & Random Drawing
12:00 - 2:00 pm NSCS Practice
2:45 - 3:30 pm NSCS Final Practice
5:35 pm NSCS Qualifying
8:30 pm Garage Closes
Saturday, April 28
1:30 pm Garage Opens
5:30 pm NSCS Driver / Crew Chief Meeting
7:00 pm NSCS Driver Intoductions
7:30 pm NSCS Capital 400 Race
Practices:
Friday April 27 12:00 - 2:00pm TV-SPEED
Happy Hour: Friday April 27 2:45 - 3:30pmTV-SPEED
Qualifying: 2 laps for positions 1-42 Friday April 27 at 5:35 pmTV-SPEED
White-Hot Hamlin Returns To Racing Roots
With his second victory of the season in hand, Denny Hamlin is on top of the world.
And that world figures to get even brighter as the NASCAR Sprint Cup Series shifts its focus to Richmond International Raceway for Saturday night's 400-lap, 300-mile Capital City 400 presented by Virginia is for Lovers.
Hamlin is a two-time Richmond winner (fall 2009-10) and also will compete in Friday's NASCAR Nationwide Series race he twice won. And for icing on the cake, there's the Denny Hamlin Short Track Showdown, a Thursday night charity race for late model stock cars benefiting the Virginia driver's foundation.
Hamlin, Tony Stewart, Kyle Busch, Jeff Burton, Michael Waltrip, Joey Logano and Aric Almirola are among drivers competing in the NASCAR Whelen All-American Series-sanctioned event. Among others in the all-star-type event are a number of rising stars, including K&N Pro Series drivers Darrell Wallace Jr., Sergio Pena, Chase Elliott and Whelen All-American Series drivers C.E. Falk and Travis Braden.
"We're excited. I love going to Richmond anyway, but any time you can go after winning the previous week, it makes it a little more exciting. I'm excited about it," said Hamlin, a Chesterfield, Va., native who jumped from sixth to fifth in NSCS points standings with his Kansas victory. "It's a big weekend for us next weekend, and obviously this is a great step to trying to get some promotion for that."
Saturday's race also should be an exciting homecoming for Hamlin's crew chief, Virginia Tech engineering graduate Darian Grubb, Floyd, Va. The pair combined for Hamlin's 19th career victory, putting him on the threshold of joining 20-plus Virginia winners Joe Weatherly (25), Ricky Rudd (23) and Jeff Burton (21). Last week, Hamlin pushed the No. 11 to the top of the all-time wins list with 199 victories. The victory broke a tie with the No. 43.
Weatherly, a two-time series champion, partnered with Paul Sawyer in purchasing Richmond International Raceway in 1955. The facility has been owned by International Speedway Corp. since December 1999.
The 2012 season is the 60th since the track's NASCAR Sprint Cup debut in 1953. NASCAR Hall of Famer Lee Petty won the 100-mile race in a Dodge. The track was reconfigured to its current 0.75-mile triangular shape in the fall of 1988. Richard Petty is the all-time Richmond winner with 13 victories. Stewart, Busch, Dale Earnhardt Jr., Jimmie Johnson and Terry Labonte lead drivers active in 2012 with three wins apiece. Kevin Harvick won last September's race – the only driver besides Busch and Hamlin to win at Richmond since 2009.

Statistically Speaking, Richmond Should Give Kyle Busch Big Lift
Wins at Phoenix and Kansas appear to have cured Denny Hamlin's hangover from his 2010 championship near-miss. Perhaps a trip to Richmond International Raceway, where he's the three-time defending winner of the track's spring race, will do likewise for Kyle Busch.
Busch, who rolled up 23 NASCAR Sprint Cup victories in fewer than 250 races, hasn't won in 20 starts. To put that in perspective, Busch had gone to Victory Lane every 10.6 starts when he last won at Michigan International Speedway in August of last year. The Las Vegas native has won in all seven seasons as a full-time NSCS competitor with three or more victories in each of his past four years with Joe Gibbs Racing.
Busch hasn't exactly dropped off the face of the earth; he's got three top 10s, including a second in the weather-abbreviated race at Auto Club Speedway. He's currently outside the top 10 in points (13th), where he's been after seven of eight races. In 2011, Busch spent only one week worse than seventh prior to the cut-down to the Chase for the NASCAR Sprint Cup™. Richmond should be a different story. Busch ranks among the leaders in most of the key Loop Data Statistics at the 0.75-mile track, including a second-best Driver Rating of 114.8. In 14 starts, he's yet to finish off the lead lap heading 859 of 5,610 serials run.
"If you look at the stats there, it's about as good as it gets at Richmond for the M&M's team and I hope we can continue that coming up," Busch said.

Promise Being Fulfilled In 2012 For 'Can't Miss' Prospect Truex
Being a "can't miss" prospect can be a blessing or a curse. Just ask Martin Truex Jr.
Truex, whose second-place finish in Sunday's STP 400 at Kansas Speedway boosted him to the runner-up position in NASCAR Sprint Cup Series points, has seen the label from several angles.
In 2004-05 Truex captured back-to-back NASCAR Nationwide Series titles leading the series in victories both seasons as he won a combined 12 times, including races at Daytona and Talladega. He beat Kyle Busch one year and Clint Bowyer the next and was off to NASCAR's premier series with the wind at his back.
Three seasons with Dale Earnhardt Inc. and one with Earnhardt Ganassi Racing With Felix Sabates left much promise unfulfilled: one victory, at Dover in 2007, and a berth in the Chase for the NASCAR Sprint Cup™ among the few highlights. Last year's first run with Michael Waltrip Racing seemed like more of the same – until his No. 56 Toyota team was reorganized and revitalized late in the season.
He finished 2012 with top-10 finishes in four of the last five races and hasn't looked back. He's finished six of eight races among the top 10 – three in the top five – and led 173 laps at Kansas, the most since his Dover victory. The 31-year-old Mayetta, N.J., native won the Coors Light Pole at Texas and ranks second only to points leader Greg Biffle in Driver Rating (105.5) and third (8.7) in Average Running Position.
The secret behind Truex's resurgence? One might be his ability to stay out of trouble. Truex has run 7,142.37 miles since the last time he was listed as being part of an accident or spin that brought out a caution. Of those 7,142.37 miles run, 6,142.876 were on the lead lap. Both figures are currently best in the NASCAR Sprint Cup series.

There's Hope For Hendrick To Snatch Elusive 200th Win At Richmond
Hendrick Motorsports' 200 wins beat goes on, oddly. Last week at Kansas Speedway, Denny Hamlin placed his No. 11 Toyota into Victory Lane – a record 199th time that number has won a NASCAR Sprint Cup Series race. Unpredictably, arguments can now begin about who will reach 200 wins first, the No. 11 or Hendrick Motorsports. With a four-driver-to-one numbers advantage, HMS feels like the likely favorite. But its drought continues.
So Richmond International Raceway awaits on deck, and yet again, there's reason to believe. Hendrick leads all active teams in Richmond victories with 10, second only to Petty Enterprises all-time.
Dale Earnhardt Jr. loves the short track. He boasts three victories there, and comes into the race with four consecutive top-10 finishes after a seventh-place run at Kansas.
Kasey Kahne earned his first career NASCAR Sprint Cup victory at Richmond in 2005. He finished third in this race last year.
Jimmie Johnson has three Richmond wins, including a sweep in 2007.
Jeff Gordon scored seven consecutive top 10s at Richmond from 2007-2010, and finished third in September of last season. In all, he has two victories at Richmond.

Lean Pickins' For Ford, Roush Fenway At Richmond In Recent Seasons
With Carl Edwards moving into the top 10 in points (ninth), Roush Fenway Racing is a triple-threat championship machine. Greg Biffle continues to lead the standings with Daytona 500 winner Matt Kenseth a solid third with five top-five finishes.
But Richmond could be a momentum stopper.
Ford hasn't won a Richmond race since the fall of 2006. Current RFR drivers have a single Richmond victory – Kenseth in the fall of 2002. Biffle is 0-for-56 in short track starts and hasn't finished higher than 13th in his most recent 10 Richmond races. Edwards, however, could build off last year's fifth- and second-place finishes.

NASCAR Sprint Cup Series, Etc.
Milestone Watch: Hendrick Motorsports isn't the only member of the NASCAR garage pining to reach an elusive milestone. Ryan Newman still waits for his 50th Coors Light Pole, which would make him the ninth driver to accomplish the feat. Newman has one pole at Richmond, in 2004. … Greg Biffle needs to lead 16 more laps to reach 5,000 laps led in his NASCAR Sprint Cup career. … Joey Logano will add another talent to his repertoire: color analyst. On Thursday night at Richmond, he'll join Mike Joy and Phil Parsons live at 7 p.m. on SPEED to call the K&N Pro Series East race. … Top Gear and host Richard Hammond will be fully immersed in the world of NASCAR at Texas Motor Speedway when the NASCAR episode of the world's biggest car show premieres Monday, April 30, at 8:30 p.m. ET on BBC AMERICA. In the episode, Hammond explores the history of NASCAR and tells the story of how the sport evolved into what it is today. The episode also features interviews with NSCS drivers Jimmie Johnson, Jeff Gordon and Juan Pablo Montoya.

Travis Pastrana To Make NASCAR Nationwide Series Debut at Richmond
Death-defying aerial acrobatics on motorcycles, off-road rally racing, skydiving and X-Game gold medals are nothing new for Travis Pastrana, but this weekend at Richmond International Raceway, Pastrana will make his long-awaited NASCAR Nationwide Series debut in the Virginia 529 College Savings 250.
Originally scheduled to make his first start last July at Lucas Oil Raceway, Pastrana's bid was thwarted due to injuries suffered during the X-Games the night before. Now after injury rehab and a couple of runs in the NASCAR K&N Pro Series East – including Thursday night's Blue Ox 100 – the action sports icon is set for his big-stage NASCAR moment on Friday. It's a homecoming, of sorts, for Pastrana, as well. He's a native of Annapolis, Md.
Pastrana is set to run at least seven series races in 2012. He will be driving for RAB Racing, which last week announced an alliance with Michael Waltrip Racing that will feature RAB equipment and MWR technical and marketing support. The No. 09 Toyota now becomes the No. 99.
Though a huge star in other sports platforms, Pastrana has taken a modest approach to NASCAR. "I just hope I don't hit a wall, don't hit anybody else, don't make anybody upset, and hopefully we can end up on a lead lap, and I think it will be a really strong goal for me," Pastrana said.
Pastrana's experience in the NASCAR K&N Pro East and West Series will be most valuable in preparation for this weekend. He has made five total career starts in the East Series with a best finish of 12th at Bristol earlier this year.
"We've done our homework," Pastrana said. "I've got great people behind me. I've been with the crew chief (Scott Zipadelli) since I started in NASCAR, and I feel really confident with the people I have around me." (Click here for the Pastrana transcript)

Virginia Native Sadler, Reigning Champ Stenhouse Lead Series Regulars
It's home sweet home for NNS standings leader Elliott Sadler, a native of Emporia, Va., who goes home to showcase his talents at Richmond International Raceway. Sadler leads a contingent of talented drivers not running full-time in the NASCAR Sprint Cup Series this weekend who have won seven of the last nine NASCAR Nationwide Series races dating back to last season at Texas.
Despite momentum on their side, Richmond is going to be a hard egg to crack for the non-full-time NSCS drivers. Double-duty NSCS drivers have won every Richmond race since Robby Gordon claimed the track's fall race in 2004. Another Virginia native, Denny Hamlin, last week's NASCAR Sprint Cup winner at Kansas, comes home with confidence and also is the defending winner of this race.
Kevin Harvick, who's tied with Mark Martin for most NNS wins at Richmond with five, also returns to the series this weekend. Brad Keselowski, the winner of this race in 2010, Joey Logano, who has three top-10 finishes in three series races at Richmond, and Kasey Kahne are also slated to compete.
But Richmond could be very different this season. Reigning series champion Ricky Stenhouse Jr. has closed the gap on Sadler to a mere four points following his victory a few weeks ago in Texas. Sadler and Stenhouse have virtually mirrored each other's finishes. Both drivers have posted two wins, four top fives and five top 10s in the season's first six starts. Both are at the top of their game heading to Richmond, but Stenhouse (95.7) slightly betters Sadler (92.9) in pre-race Driver Rating at the 0.75-mile speedway.

NASCAR Nationwide Series, Etc.
Ryan Blaney, 18, son of NASCAR veteran Dave Blaney will make his NNS debut at Richmond this weekend driving for Tommy Baldwin Racing. In only four starts in the K&N Pro Series East and West, Blaney has a win – last November at Phoenix – a runner-up finish and two other top-10 results. He'll also run Thursday night's K&N Pro Series East race. … Steve Wallace will make his return to the NNS at Richmond. He'll drive the No. 4 Chevrolet, which lists his father, NASCAR Hall of Fame nominee Rusty Wallace, as owner. Steve Wallace hasn't run in the series since the 2011 season finale at Homestead-Miami. … Tanner Berryhill, 18, who had seven K&N Pro Series East starts in 2007, will attempt to make his series debut at RIR for Vision Racing. … Joe Gibbs Racing Toyotas swept the RIR races last year, but the competition at the 0.75-mile track has been wide open over the last four years. Each manufacturer has at least one win since the 2009 fall race. … Kurt Busch is making his second consecutive start for Kyle Busch Motorsports, but his first in the NNS at Richmond. His owner and younger brother, Kyle Busch, will provide great notes as a four-time NNS winner at RIR. …. Michael Annett will have a special young man attending the race, Joseph "Sepp" Shirley, a 12-year-old boy with cerebral palsy from Mechanicsville, Va. "If you think something is impossible, keep trying. If you like it, keep doing it, because you are succeeding," said Sepp, a boy who eats, sleeps and breathes sports. He's on football, baseball and swim teams, and also dabbles in skiing and basketball – all while living with cerebral palsy. Sepp and his family will be guests of the No. 43 Pilot Flying J Nationwide team this weekend, sitting atop the pit box and cheering on Annett. … Danica Patrick, 11th in points, will make her second NNS career start at Richmond this weekend. She is the sixth female driver to compete in the NNS at Richmond, joining Diane Teel, Patty Moise, Shawna Robinson, Tammy Jo Kirk and Erin Crocker.

Win Puts Busy Buescher On Championship Trajectory
James Buescher's long-sought NASCAR Camping World Truck Series victory at Kansas Speedway was the product of persistence – and a busy racing schedule.
While most series competitors have run just four times in 2012, Buescher has been behind the wheel of either Turner Motorsports-prepared trucks or the team's NASCAR Nationwide Series cars virtually every weekend since the 2012 season kicked off at Daytona International Speedway.
Buescher's Kansas victory was his first in 76 starts that included four second-place finishes. The 22-year-old Texan was the surprise winner of Daytona's NASCAR Nationwide Series opener. He's run four more times with each finish among the top 15 and plans to compete in this Friday's race at Richmond International Raceway and subsequent NNS stops at Talladega Superspeedway and Darlington Raceway.
Buescher is positioning himself to become the NASCAR Camping World Truck's second consecutive "young gun" champion. Austin Dillon became the youngest at age 21 a year ago. Buescher's victory boosted him to second in the standings, just four points behind leader Timothy Peters.
"I think we were definitely due [for a win]," said Buescher, who finished third at Martinsville and second at Rockingham. "We've had strong trucks at every style of race track we've gone to and all four have been completely different. It says a lot about the diversity of trucks we have in this organization."
The victory was the second in a row for Turner, which collected its initial truck win with Kasey Kahne the previous Sunday at Rockingham Speedway.

No Stumbles At Kansas As Peters Keeps Red Horse Perfect
Red Horse Racing isn't perfect. Not quite, but just about.
With Timothy Peters successfully defending his NASCAR Camping World Truck Series championship lead with a second-place finish at Kansas Speedway, the Toyota organization has gone four-for-four heading the points during the opening stages of the 2012 season. He also entered last year's Kansas race No. 1 in points, but a 14th-place finish led to a subsequent standings drop.
Peters took the lead at Rockingham Speedway on April 15. Teammate John King, winner of the season-opening race at Daytona International Speedway, was the point leader through the March 31 Kroger 250 at Martinsville Speedway.
Both Peters and King (eighth) occupy top-10 positions. A third Red Horse driver, two-time series champion Todd Bodine, is 11th.
Peters, last year's fifth-place championship finisher, is the only series driver to have finished all four races among the top five. The team's three drivers have accumulated six top fives and eight top 10s.

Five Teams Score 'Lock-Ins' For Charlotte Race
Last weekend's SFP 250 bid farewell to the 2011 NASCAR Camping World Truck Series owners' championship points table upon which starting spots in the first four races of the season were guaranteed.
Locked in for next month's race at Charlotte Motor Speedway, after having to qualify on speed thus far, are the No. 9 of Joe Denette driven by four-time champion Ron Hornaday Jr.; the No. 09 of Robby Benton driven by John Wes Townley; the No. 11 of Tom DeLoach driven by Todd Bodine; the No. 81 of Billy Ballew driven by David Starr and the No. 98 of Duke Thorson driven by Dakoda Armstrong.
The cut-off finds Susan Bates' No. 39 in the 25th position, scoring the same number of points as Pam Sieg's No. 93. Bates prevailed on best finish. Ironically, both trucks race out of the same shop.
Among those barely inside the top 25 is the No. 18 Toyota of Kyle Busch Motorsports. The 2010 championship owner team, with driver Jason Leffler, is 24th after two finishes outside the top 30 and a single top-10 performance.

NASCAR Camping World Truck Series, Etc.
Buescher's crew chief, Mike Shelton, recorded his first series victory. Shelton is a former Joe Gibbs Racing suspension technician and NASCAR Nationwide Series car chief. … Turner's win was the first since the series began for a Hendrick Motorsports-assembled Chevrolet engine. Although HMS won a trio of NCWTS titles with Jack Sprague, its power plants were built out of house. … Three drivers, Peters, Dillon and Justin Lofton, have recorded top-10 finishes in all four 2012 races. Not so coincidentally, they occupy three of the first four positions in the championship standings. … Tim George Jr. posted his first Keystone Light Pole at Kansas with a speed of 172.436 mph.
It's back to the short track for the third and final time this spring. This time the venue is Richmond International Raceway, the .75-mile gem that offers a preview one of the most important races of the season – the cut-off race for the Chase for the NASCAR Sprint Cup. The track, a 0.50-mile dirt track in its 1953 debut but a 0.75-mile triangular-shaped layout since fall 1988, is the third-oldest venue on the current schedule after Martinsville Speedway (1949) and Darlington Raceway (1950).

Momentum figures to be big this week: Denny Hamlin won for the second time on Sunday at Kansas Speedway and has a pair of Richmond victories (fall 2009-10). Kyle Busch has won three consecutive spring races at the track but remains winless through this year's first eight races. Kevin Harvick is the most recent Richmond winner last September en route to a third-place championship finish.

Several questions loom: Can Hendrick Motorsports finally get its 200th NASCAR Sprint Cup victory? Will Martin Truex Jr., second in Kansas and enjoying his best points ranking (second) ever, break a winless drought of 175 races?

Richmond's 400-lap, 300-mile race can be seen on FOX (live, 7:30 p.m. ET).

The NASCAR Nationwide Series roars back into action in Richmond on Friday (ESPN2, 7:30 p.m. ET) with action sports star Travis Pastrana making his long-awaited debut. Virginia native Elliott Sadler is the series points leader by four over defending champion Ricky Stenhouse Jr. NNS points eligible competitors hope to snap a wins drought dating to the spring of 2004.

NASCAR Camping World Truck Series competitors begin a count-down to the May 18 North Carolina Education Lottery 200 at Charlotte Motor Speedway. James Buescher became the season's second first-time winner on April 21 at Kansas Speedway and trails standings leader Timothy Peters by four points with four of 22 races complete.

At Richmond International Raceway:
History
· Originally known as the Atlantic Rural Exposition Fairgrounds, Richmond International Raceway held its first race in 1946 as a half-mile dirt track.
· The first NASCAR Sprint Cup race was April 19, 1953.
· The spring 1964 race was run on a Tuesday night under temporary lighting.
· The track name changed to Virginia State Fairgrounds in 1967.
· The track surface was changed from dirt to asphalt between races in 1968.
· The track name changed to Richmond Fairgrounds Raceway in 1969.
· The track was re-measured to .542-mile for 1970.
· The track was rebuilt as a three-quarters-mile D-shaped oval following the Feb. 21, 1988 race.
· The first race under permanent lights was Sept. 7, 1991.
· The first season with both races as night races was 1999.
Notebook
· There have been 111 NASCAR Sprint Cup races at Richmond since the track opened in 1953.
· The current 400-lap race length was established on the .542-mile measurement in March 1976.
· Buck Baker won the pole in 1953.
· Lee Petty won the first race in April 1953.
· There have been 50 different pole winners, led by Bobby Allison and Richard Petty (eight).
· Jeff Gordon leads all active drivers with five poles.
· 47 different drivers have posted victories at Richmond, led by Richard Petty (13).
· Dale Earnhardt Jr., Tony Stewart, Kyle Busch, Terry Labonte and Jimmie Johnson (three) lead active race winners.
· Petty Enterprises has won 15 races at Richmond, more than any other team.
· 63 of 111 races have been won from the top five starting positions, including 22 from the pole.
· The last driver to win from the pole was Kyle Busch in 2010.
· The furthest back in the field a race winner has started was 31st, by Clint Bowyer in the 2008 spring race.
· Kyle Busch (5.0) and Denny Hamlin (7.5) are the only active drivers with an average finish in the top 10.
· Youngest NASCAR Sprint Cup Series Richmond International Raceway winner: Richard Petty (04/23/1961 – 23 years, 9 months, 21 days).
· Oldest NASCAR Sprint Cup Series Richmond International Raceway winner: Harry Gant (09/07/1991 – 51 years, 7 months, 28 days).
· Kyle Petty became the first third-generation NASCAR race winner when he won his first race at Richmond, on Feb. 23, 1986. Richard Petty posted his first Richmond victory in 1961 and Lee Petty won the very first Richmond race in 1953.
· Three of the last four races have had a margin of victory less than one second.

Top 12 Driver Rating at Richmond
Denny Hamlin 117.6
Kyle Busch 114.8
Kevin Harvick 112.6
Jeff Gordon 98.5
Clint Bowyer 96.3
Tony Stewart 95.4
Ryan Newman 93.0
Kurt Busch 92.7
Mark Martin 91.5
Jimmie Johnson 88.6
Carl Edwards 86.4
Jeff Burton 85.6
Note: Driver Rating compiled from 2005-2011 races (14 total) at Richmond.


NASCAR SPRINT CUP SERIES

Denny Hamlin Returns Home On A Roll
Denny Hamlin, a Chesterfield, Va. Native, returns to Richmond a winner and will attempt to win back-to-back races for only the second time in his career. (He won the Pocono and Michigan races in consecutive weeks in June 2010.)

He has two wins at his home track and is looking forward to going home. "We've got a lot of stuff leading up -- we have our big Short Track Showdown coming up on Thursday, so we've got a lot of planning. I obviously need to go to Richmond early to get some stuff done and schmooze some of our sponsors for that race for a few days. We're excited. I love going to Richmond anyway, but any time you can go after winning the previous week, it makes it a little more exciting. I'm excited about it. It's a big weekend for us next weekend, and obviously this is a great step to trying to get some promotion for that."

Hamlin, who nabbed his 19th career win last week, looks to become the fourth Virginia native to record 20 or more NASCAR Sprint Cup Series victories, joining Joe Weatherly (25), Ricky Rudd (23) and Jeff Burton (21).

A second local connection for the No. 11 team – crew chief Darian Grubb. Grub, from Floyd, Va., earned an engineering degree from Virginia Tech.

Speaking of Darian Grubb…

A rivalry of sorts is blossoming between he and former boss Tony Stewart. On the wins ledger, both have two on the young season.

Sprint Cup Stars Aid Hamlin's Foundation
Hamlin's Short Track Showdown is part of a Thursday night doubleheader that also features the NASCAR K&N Pro Series East Blue Ox 100. Sprint Cup stars who'll compete in the foundation event include Hamlin, Tony Stewart, Kyle Busch, Jeff Burton, Michael Waltrip, Joey Logano and Aric Almirola.

Richmond Could Jump-Start Kyle Busch's Season
Kyle Busch has won the last three spring races at Richmond and is tied with Dale Earnhardt Jr., Jimmie Johnson and Tony Stewart for most wins among active drivers. It's the fourth anniversary of Busch getting into Earnhardt Jr. and allowing Clint Bowyer to slide through for a win. These four drivers with three wins apiece trail five NASCAR Hall of Famers and one NASCAR Hall of Fame nominee on the all-time list: Richard Petty (13), Bobby Allison (7), David Pearson (6), Rusty Wallace (6), Darrell Waltrip (6) and Dale Earnhardt (5).

Busch ranks 13th in the standings 31 points out of the top 10. Busch's last victory came last August at Michigan International Speedway, 20 starts ago.

Martin Truex Jr.'s Amazing 2012 Continues
Martin Truex Jr. didn't break his winless streak in Kansas. He did everything but, finishing a close second to Hamlin after leading 173 laps – the most in any race since his 2007 victory in the fall event at Dover International Speedway. Truex heads to Richmond second in points – his best ranking ever – with a career-best five consecutive top-10 finishes. The New Jersey native has a single top five at Richmond – fifth in the spring of 2008. His best Richmond finish with Michael Waltrip Racing, seventh, came in the spring of 2010.

The secret behind Truex's resurgence? Well, there are plenty of reasons, but one might be his ability to stay out of trouble. Truex has run 7,142.37 miles since the last time he was listed as being part of an accident or spin that brought out a caution. Of those 7,142.37 miles run, 6,142.876 were on the lead lap. Both figures are best in the series.

Hendrick Motorsports #200Wins Watch
Rick Hendrick leads all active owners with 10 wins and trails only Richard Petty (15) for most wins at the track. Hendrick and Petty are the only owners with double-digit victories at the Virginia short track. His last win at the .75-mile oval came in the fall of 2008 with Jimmie Johnson. Johnson swept both Richmond races in 2007. Johnson finished third in Kansas and continues to strengthen his bid for a sixth NASCAR Sprint Cup championship. Dale Earnhardt Jr., a three-time Richmond winner (most recently in spring 2006), is a riding a four-race top-10 streak.

Newman Continues 50 Coors Light Poles Watch
Ryan Newman has one pole at Richmond, starting in the top spot for the fall 2004 race. His 11.1 average start at Richmond is 13th-best at the 24 tracks on the circuit. Jeff Gordon leads all active drivers with five poles, trailing NASCAR Hall of Famers Bobby Allison (8), Richard Petty (8) and Darrell Waltrip (7). There hasn't been a repeat pole winner back to 2006.

NASCAR NATIONWIDE SERIES

Finally, Go-Time Is Here For Pastrana
Like the old ketchup commercial, there's been plenty of anticipation surrounding Travis Pastrana's NASCAR Nationwide Series debut. Originally scheduled to make his first start last July at O'Reilly Raceway Park, Pastrana's bid was thwarted due to injuries suffered in an X-Games stunt the night before. Now after injury rehab, plenty of testing and a couple of runs in the NASCAR K&N Pro Series East – including Thursday night's Blue Ox 100 – the action sports icon is finally set for his big-stage NASCAR moment Friday night at Richmond. It's a homecoming of sorts for Pastrana as well. He's a native of Annapolis, Md. Almost a year to the day (April 28, 2011) after making his K&N East debut at Richmond, Pastrana is set to embark on a NNS schedule that encompass at least seven races in 2012. Pastrana will compete in the NNS for RAB Racing as that team and Michael Waltrip Racing last week announced an alliance between the organizations that will feature RAB equipment and MWR technical and marketing support. The No. 09 Toyota now becomes the No. 99.A little quieter perhaps but another debut to watch is that of Ryan Blaney, 18, son of NASCAR veteran Dave Blaney. He'll try to make his first start for Tommy Baldwin Racing. In only four starts in the K&N Pro Series East and West, Blaney has a win – last November at Phoenix – a runner-up finish and two other top-10 results. He'll also run Thursday night in the K&N East race.

Is Superman a Regular Guy?
Since the fall 2004 race, Richmond has been kryptonite to NNS regulars. Robby Gordon, then a NASCAR Sprint Cup Series regular, won that race and in the races since, double-duty drivers have dominated Victory Lane at RIR. Virginia's own Denny Hamlin, last week's Cup winner at Kansas, comes home with confidence and also is the defending winner of this race. Although Friday night's entry list is stocked with double-duty RIR dominators in addition to Hamlin – Kevin Harvick, who's tied with Mark Martin for most NNS wins at Richmond with five; Brad Keselowski, the winner of this race in 2010; Joey Logano, he of three top-10 finishes in three series races at RIR; along with Kasey Kahne – it very well could be a NNS regular who is favored to win. Consider the regulars' strengths: Another Virginian, Elliott Sadler, leads the standings and has two wins this year. Ricky Stenhouse Jr., the reigning series champion, has chipped away at Sadler's advantage and sits only four points out in second. Stenhouse also has two victories this season, winning last time out at Texas. Although receiving driver championship points in the NASCAR Camping World Truck Series, James Buescher is certainly a threat, having won the season-opener at Daytona among his scheduled 14 NNS races this year. Since last November at Texas, series regulars have won seven of the last nine races.

NNS RIR ETC:
Austin Dillon, the Sunoco Rookie of the Year leader, has come a long way since his NNS debut in 2008 at RIR where he finished 26th. Dillon, the 2011 Camping World Truck champion, is third in the rankings, 20 points behind Sadler. He'll get some work in at Pocono on Wednesday at the Goodyear tire test where he'll test in a truck before heading to Richmond. Friday also marks his 22nd birthday. … Steve Wallace will make his return to the NNS at Richmond. He'll drive the No. 4 Chevrolet, which lists his father, NASCAR Hall of Fame nominee Rusty Wallace, as owner. Steve Wallace hasn't run in the series since the 2011 season finale at Homestead-Miami. … Tanner Berryhill, 18, who had seven K&N East starts in 2007, will attempt to make his series debut for Vision Racing at RIR. … Joe Gibbs Racing Toyotas swept the RIR races last year, but the competition at the 0.75-mile track has been wide open over the last four years. Each manufacturer as at least one win since the 2009 fall race. … Kurt Busch is making his second consecutive start for Kyle Busch Motorsports, but this will be his first in the NNS at Richmond. His owner and younger brother, Kyle, will provide great notes as a four-time NNS winner at RIR.

NASCAR CAMPING WORLD TRUCK SERIES

Buescher Makes It Back-To-Back Wins For Turner Motorsports
It took Turner Motorsports 134 starts to visit victory lane in the NASCAR Camping World Truck Series and only one more to earn their second. James Buescher – who finished in the runner-up position four times in his career - finally captured the elusive truck series victory at Kansas after leading an impressive 103 laps. Buescher currently sits four points behind Timothy Peters in the series championship standings. He is slated to compete in the NASCAR Nationwide Series event at Richmond International Raceway this weekend in the No. 30 entry for Turner Motorsports.

Peters, White Head Home To Virginia In Denny Hamlin Short Track Showdown
Virginia native Jason White and points leader Timothy Peters (who lives in Danville, Va.) return to their short track roots with fellow Virginian Denny Hamlin in the Denny Hamlin Short Track Showdown at Richmond International Raceway. The showdown, a NASCAR Whelen All-American Series Late Model division race, will kick of the weekend's festivities at the famed 0.75-mile track. Peters currently leads the NCWTS standings following the first four events.

Up Next:
The NASCAR Camping World Truck Series returns to action on Friday, May18 at Charlotte Motor Speedway for the N.C. Education Lottery 200. At least two former winners, Matt Crafton (2008) and Ron Hornaday Jr. (2009) are expected to compete. - source: nascar media