CONCORD, N.C. – Hall of Fame Racing co-owner Tom Garfinkel said that the day-to-day decisions about the No. 96 Ford that Bobby Labonte will drive in the NASCAR Sprint Cup Series will be made by Yates Racing general manager Max Jones.

And that's fine with Garfinkel, the chief operating officer of the Arizona Diamondbacks baseball team, as part of the team's new alliance with Yates Racing.

"In a lot of ways, Max is going to be running the team, and I'm perfectly comfortable with that and thrilled with that," Garfinkel said Tuesday morning during the Sprint Cup Media Tour. "I'd rather not fly back and decide who the right-rear tire changer is going to be. I want to allow Max to use his expertise to do those things."

Garfinkel and business partner Jeff Moorad bought a majority interest in Hall of Fame Racing two-thirds through the 2007 season. Moorad recently left the Diamondbacks to pursue the purchase of the San Diego Padres baseball team.

The race team finished 2008 outside of the top 35 in points.

"It's going to take time in NASCAR, but if we didn't think eventually at some point we could be competitive in the sport, then we wouldn't [have done this] ," Garfinkel said.

The Hall of Fame Racing team struggled on the track last year, and with only partial sponsorship from DLP, they looked for an opportunity to align with another team.

Garfinkel, who has a long history in motorsports, including working with Texaco on its motorsports sponsorships, has known team owner Doug Yates for more than a decade. He also said he sat and talked with people from the Fenway Sports Group, co-owner of Roush Fenway Racing, at a Diamondbacks-Red Sox game.

"Yates was already ramping up, so in a lot of ways, it was a great marriage," Garfinkel said. "They had a team in place. They had the equipment already in place for Daytona, and we were able to bring sponsorship dollars and some assets and some other thoughts on how we wanted to do things and merge it into what they already had in place."

Gafinkel said hasn't known the people at Ask.com for a long time, but a cold call from a marketing agency working for the team resulted in the team's sponsorship from Ask.com and the alliance with Yates Racing.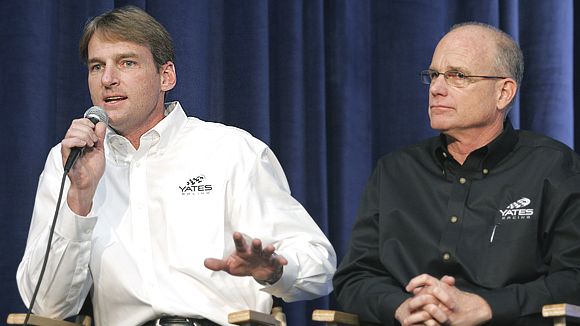 The call came after Ask.com had spent $100 million on an advertising campaign that was viewed as unsuccessful. The call was made in October, and the Ask.com leadership came to the 2008 Sprint Cup season finale at Homestead.

Garfinkel said the deal – the length of which he wouldn't go into – was not contingent on hiring 2000 Cup champion Bobby Labonte as the team's driver.

But that certainly is a big boost to the organization.

"We had a couple of other options," Garfinkel said. "Bobby became available at the last minute, and Max moved on it quickly."

Fewer than 10 of the 40 Hall of Fame Racing employees have joined the Yates team, Garfinkel said.

"Jeff and I were determined we were not going to shut down," he said. "I don't want to say that it was never a consideration. They say you plan for the worst and hope for the best.

"We were very determined. The last eight weeks to 12 weeks of my life have been a lesson in persistence."

What's the long-range plans of the team?

"We got into the sport to try to try to create a competitive situation, to do things a little bit differently maybe and to build a great organization," Garfinkel said. "If we're building a great organization with people that we trust and can partner with, then that's a great situation for us."

Garfinkel, who said his group enjoyed its relationship with Joe Gibbs Racing, believes the Yates alliance will be stronger. He pointed to his team being far behind the JGR cars in qualifying at Talladega in October as a sign that those operations weren't sharing information.

"We had an engineering department; Gibbs had an engineering department," Garfinkel said. "We didn't really share information.

"We got a set of equipment, and equipment changed on their end, and we were trying to figure it out as it went along instead of being part of the development process. … With Bobby behind the wheel, with Roush-Yates engines, with being integrated into Yates in a more seamless way, we think is going to help us be more competitive." - scenedaily.com
Captain Thunder Has Created A New NASCAR Smart Phone App
"Captain Thunder's NASCAR News"
Click Here To Download The Most Complete NASCAR App Available Anywhere
---